ISO 22000 | Food Safety Management System
ISO 22000 certification - Food Safety Management System
Safety and health in food processing and production is one of the key issues in all developed countries today. High hygiene requirements are placed on companies that produce food, including inspections, minimisation of safety risks and, of course, possible sanctions. ISO 22000 certification is the basis that a food company should accept.
ISO 22000:2018 is an international standard that specifies the requirements for a food safety management system – i.e. legislative and manufacturing standards to ensure the safe production and processing of food. The standard sets conditions and safety standards not only for the food producers and processors themselves but also for transporters and distributors.
In complying with ISO 22000:2018, the company is committed to meeting the legislative requirements for safety and hygiene within the food chain. The standard specifies and integrates requirements that include legislative requirements and Hazard Analysis and Critical Control Point (HACCP).
The ISO 22000 standard provides the certified body with solutions primarily in the areas of minimising serious food hazards, minimising the risk of failure and taking a proactive approach to food safety.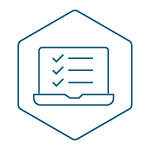 Expertise and professionalism
We cooperate with leading certification authorities and follow current trends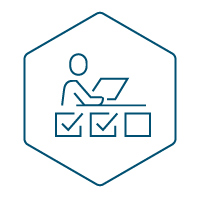 Hassle-free certification
You can count on. We stand by your side throughout the certification process.
17 years of experience
We have been certifying companies for over 17 years. We have enough experience even for challenging projects.
Transition from the older ISO 22000:2005 to the current 22000:2018
The current standard 22000:2018 has a similar structure to ISO 9001 and ISO 14001, so its implementation into management systems is easier.
In 2021, the three-year transition period to move from 22000:2005 to the current standard ends. ISO 2200 conceptually complements ISO 9001 and ISO 14001, enabling a company to establish an effective, comprehensive quality and environmental management system.
HACCP food safety system certification
HACCP (hazard analysis and critical control points) stands for hazard analysis and critical control point method. It is the name given to a systemic approach to ensuring the health safety of food and nutritional products, based on preventive measures as opposed to mere control of the finished product. The aim of this system is to eliminate or minimize risks that could cause contamination, infection, illness or injury.
HACCP has gradually become internationally accepted and adopted, has been incorporated into European legislation and has become a global standard. European Commission Directive No. 93/43/EEC on the hygiene of food production specifies what the system should contain.
The Food Code of the Slovak Republic is based on it, which in the second part, VIII. chapter introduces the concept of HACCP as a good manufacturing practice.
We will advise you on how to implement ISO 22000 and HACCP standards in your company for better protection of your food products.
Who is ISO 22000 certification for?
ISO 22000 certification is intended for companies operating in the food industry, food processing, production or distribution. The HACCP certificate is intended for food manufacturers and processors.
We can help you with certification
Are you interested in certification
ISO 22000?
We will prepare a tailored ISO 22000 / HACCP certification offer and advise you on the best solution.
Simply fill in the form and we'll take care of the rest.
years of experience in certifications
years of experience of the parent company ELBA, a.s.