With years of experience and a team of experts, we are ready to provide professional certification of international standards anywhere in the world.
ELBACERT's vision
Global Certification Company 2030.
We want to be a trusted international certification organisation.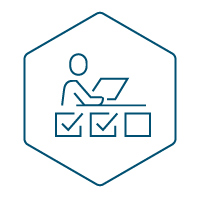 ELBACERT's mission
We verify and declare stability, reliability, competence and acceptability.
Ensure independent, impartial, pragmatic and professional certification of the management systems of organisations. Certification is a means, not an end, to achieve the satisfaction of all stakeholders
The source of the certification body's progress is the continuous process of improving the qualification of its staff; therefore, the care of the certification body's staff is as important as the care of the customer
Improving the quality of certification audits is dependent on linking theory and practice, which means an active approach to new trends in the field of systems management and auditing.
Our prosperity depends on the promptness of our response, meeting deadlines, maintaining confidentiality, quality and price of our services.
Continuous improvement of all processes is a prerequisite for staying on the market.
years of experience in certifications
years of experience of the parent company ELBA, a.s.